As a major collecting museum in Saskatchewan, Remai Modern holds in trust more than 8,000 artworks in a wide variety of media. The museum's collecting focus is on art produced from around 1900 to the present moment and aims to strike an optimal balance between local, regional and global interests.

The collection generates compelling connections between art from the Great Plains and the wider world, situating the artmaking of the region in a broader context. The collection is an important part of Remai Modern's commitment to interrogating the idea of "modern" from multiple cultural, historical and contemporary positions.

Remai Modern's collecting activities began in 2014, building on the legacy of the Mendel Art Gallery's 51-year history in Saskatoon (1964-2015). In 1965, the Mendel family donated 13 paintings to form the nucleus for the permanent collection, including work by prominent Canadian modernists. This foundational gift shaped five decades of collecting activity with strengths in Canadian and regional art practices. This valuable resource for research and exhibitions lives in the museum as "The Mendel Art Gallery collection at Remai Modern." The Remai Modern collection now totals more than 8,000 works by artists of local, national and international significance. It is an ever-evolving collection that tells the stories of the institution and this place. Bringing in new acquisitions allows the museum to represent more artistic voices that speak to key movements and moments in contemporary art.
Remai Modern houses the most comprehensive collection of linocuts by Pablo Picasso (1881-1973). This focused and specialized collection includes editioned prints, working states and experimental proofs that provide insight into the artist's process—a rare glimpse into one of the 20th century's most prolific and innovative artists.
All of Picasso's linocuts were produced in an 17-year period between 1951 and 1968, with his master printer, Hidalgo Arnera (1922-2007). With Arnera's expertise and support, the artist worked hands-on to understand, and push, the limits and possibilities of the linocut process. The collection includes posters Picasso made for the local bullfights and the summer pottery exhibitions. The posters were printed in editions of 200 to 600, whereas many of the linocuts were printed in editions of 50, some in editions of just a few.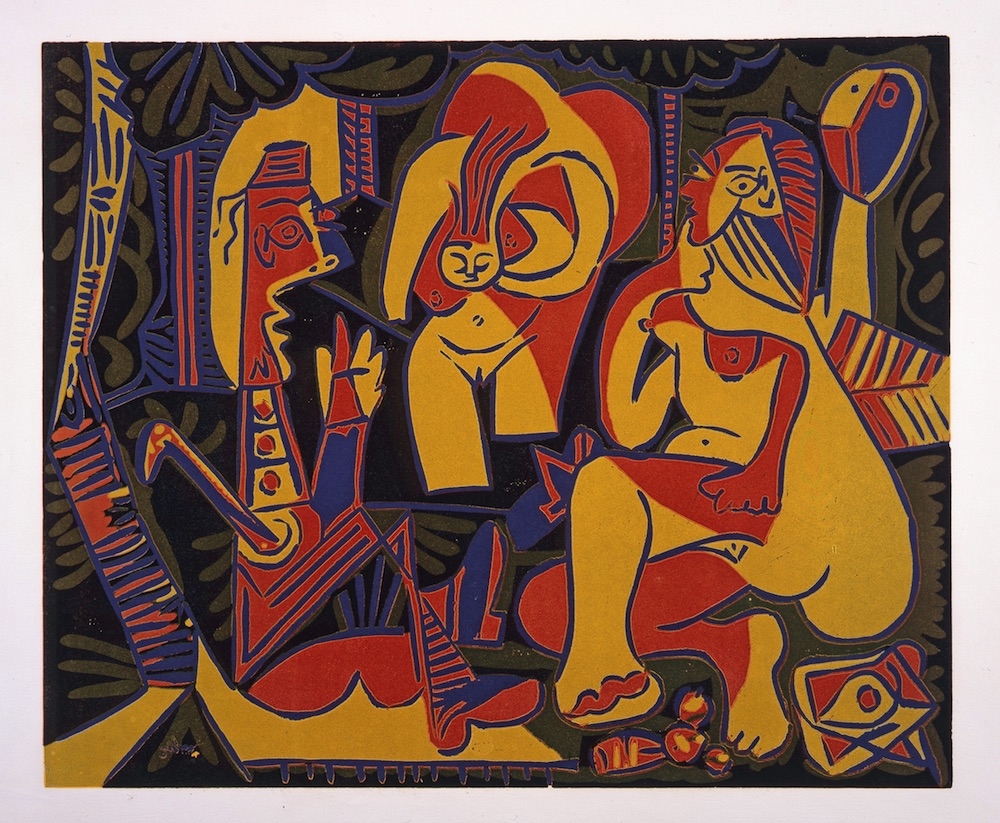 Picasso's ceramic works in the collection, executed during this same time, provide a fuller picture of his artistic production in Vallauris, in the south of France. Before embarking on the linocuts, Picasso had begun working in the Madoura pottery studio, run by Suzanne and Georges Ramié. Popular subjects include bullfighting, owls, fish, and mythological motifs. Some of the plates and plaques make specific reference to the prints, both in subject and in style. As with the linocuts, Picasso's ceramics were typically produced in large editions for a broad market.
Remai Modern's collection consists of 194 out of 197 linocut subjects known to exist, in addition to 212 working proofs. This group of linocuts was assembled by Frederick Mulder, a UK art dealer and world expert in 19th- and 20th-century European prints, who is originally from Eston, Saskatchewan. In 2012, the Remai Foundation purchased 405 linocuts from Mulder, with the purpose of donating them to Remai Modern. In 2014, Mulder made a gift of 23 ceramics along with one of the remaining four linocut subjects bringing the linocut collection to a total of 406 works.
Remai Modern adds to its collection through donation, purchase and bequest. Acquisitions are guided by the Collections Policy and Collection Development Strategy, carefully assessed by staff through curatorial research and governed by the Board of Directors. Please contact collections@remaimodern.org with any inquiries.