John Akomfrah: Vertigo Sea
John Akomfrah's three-channel video installation Vertigo Sea (2015) immerses the viewer in the overwhelming power, beauty, and destructive capabilities of the ocean. Composed of imagery from the archives of the BBC's natural history unit cut together with new footage shot by the artist, the result is a complex and layered narrative that brings us into relationship with the beauty and terror of the ocean.
Event/Exhibition meta autogenerated block.
When
March 2, 2022 – June 19, 2022
Scenes include a whale hunt off the shores of Newfoundland and polar bear hunting on Arctic ice floes, as well as the hold of a slave ship, political prisoners being cast into the sea, and refugees floating in makeshift vessels. We know the stories behind many of these familiar images. However, the number of scenes relating to the power of the sea that Akomfrah has brought together across the large screens and a 48-minute running time results in an awe-inspiring viewing experience that is greater than its elemental parts.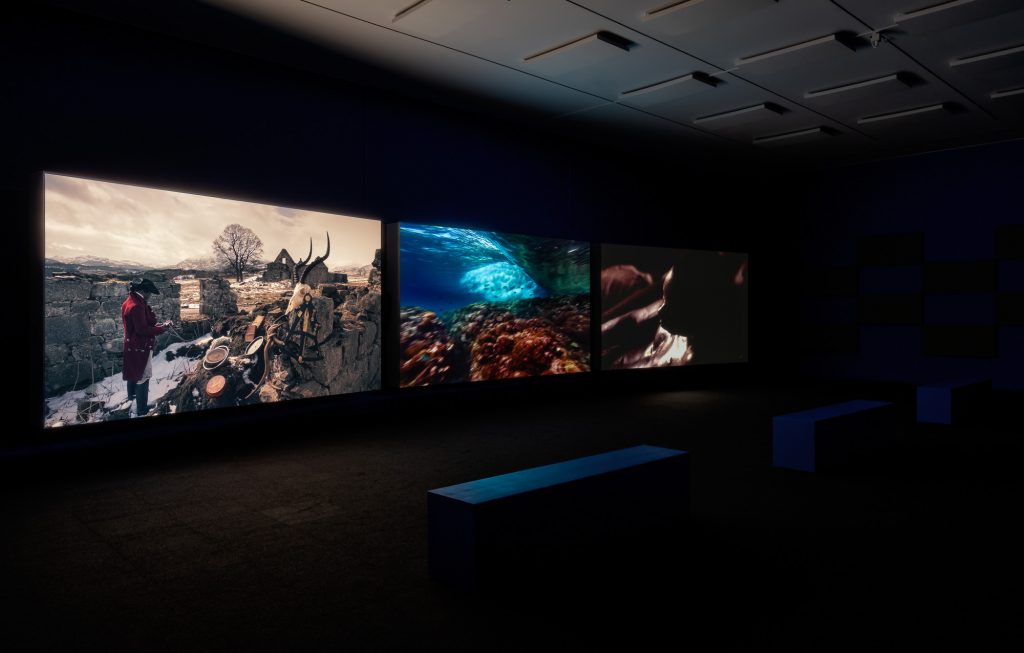 Akomfrah's fictional scenes refer to the seascapes of J.M.W. Turner, Théodore Géricault's The Raft of the Medusa (1818–1819) and the sublime landscapes of Caspar David Friedrich; his inter-titles are drawn from the writing of Ralph Waldo Emerson, Herman Melville's Moby Dick (1851), Virginia Woolf's The Waves (1931) and Heathcote Williams' poem Whale Nation (1988). Also woven through the piece is Akomfrah's telling of the remarkable story of Olaudah Equiano (about 1745–1797), a freed slave from the Kingdom of Benin who became a British abolitionist, sea merchant and Arctic explorer.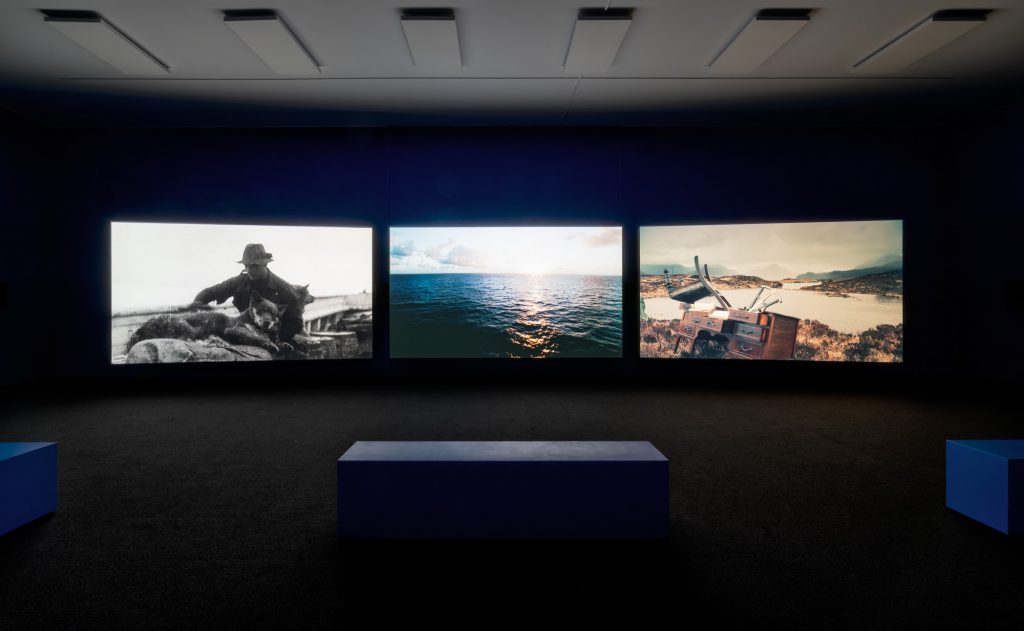 This haunting work was first presented in 2015 Venice Biennale, All the World's Futures, and is on loan from the National Gallery of Canada.
A selection of waterscapes from Remai Modern's collection will be presented alongside Vertigo Sea.
Artist
John Akomfrah (b. Accra, Ghana, 1957) is based in London. He is an artist and filmmaker whose practice is focused on memory, postcolonialism and migrant diasporas. Akomfrah has had numerous solo exhibitions, including at the Seattle Art Museum, Seattle, Washington (2020); Secession, Vienna, Austria (2020); BALTIC, Gateshead, U.K. (2019); ICA Boston, Massachusetts (2019); Museu Coleção Berardo, Lisbon, Portugal (2018); New Museum, New York (2018); Bildmuseet, Umeå University, Sweden (2015, 2018); SFMOMA, San Francisco, California (2018); and Museo Nacional Thyssen-Bornemisza, Madrid, Spain (2018). His participation in international group shows includes: Ghana Pavilion, 58th Venice Biennale (2019); Strange Days: Memories of the Future, New Museum, New York / The Store X, London (2018); Prospect 4, New Orleans, Louisiana (2017); Restless Earth, Unfinished Conversations, Museum of Modern Art, New York (2017); All the World's Futures, 56th Venice Biennale (2015); and The Unfinished Conversation, The Power Plant, Toronto (2015). He has also been featured in many international film festivals, such as Sundance Film Festival, Utah (2013 and 2011) and Toronto International Film Festival (2012). He was awarded the Artes Mundi Prize in 2017.
Curatorial Team
Organized by the National Gallery of Canada
Organisée par le Musee des beaux-arts du Canada