Art is a powerful part of society. It moves us, provokes us, challenges us, and changes us.
Speaking of change…
To celebrate our fifth anniversary, Remai Modern is now admission by donation for everyone, every day.
Come as you are. Pay what you can.
Thanks to the generous support of the Frank and Ellen Remai Foundation, admission to Remai Modern will now be by donation on all open days (free for youth under 18).
How you experience Remai Modern and your reactions to what's inside are entirely up to you.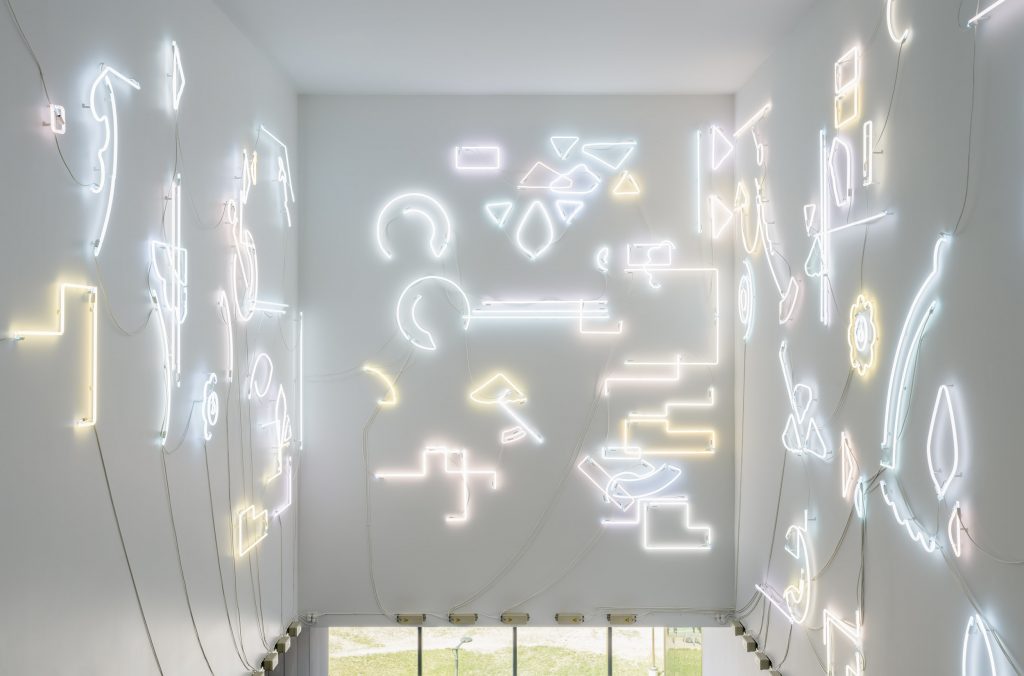 Title: <L3U~.>C≈K¥◊CHΔRMS‡ (Lucky Charms)
Artist: Pae White
Made with: Neon, transformers, electric wire
This installation is a nod to the ornamental patterns of a magic carpet, featuring hundreds of pastel neon shapes. The large-scale work lights up the stairwell leading from Level 2 to Level 3.
---
Title: My Crops Are Dying But My Body Persists
Artist: Bridget Moser
Made with: Single channel video, colour, sound
An immersive sensory experience, viewers enter a dimly-lit gallery space to find a video screen placed behind a small puddle-shaped piece of metallic material. Strange and unsettling images of food, the artist's body, and decorative objects highlight the artist's feelings of discomfort, loneliness, and fears about the future.
---
Title: Composition with Projection XXI
Artist: Alexine McLeod
Made with: Metal wire frame, steel wheel cap, fabric bag, bent wood, projector on tripod
In this work, the artist uses layered materials and angled light to collapse and expand space. She finds cast-off objects in urban environments and second-hand stores. Some components in Composition with Projection XXI were sourced in Saskatoon.
---
Title: Untitled (mountains near Jasper)
Artist: Lawren S. Harris
Made with: Oil on canvas
Canadian Group of Seven painter Lawren Harris takes landscape to the point of near abstraction, suggesting—rather than describing—a towering mountain view.