Determined by the river
We are thinking of a vessel that moves, that moves us and is moved.
Event/Exhibition meta autogenerated block.
When
October 21, 2017 – January 7, 2018
We are thinking of a vessel that moves, that moves us and is moved.
We are thinking of a vessel and a movement at the pace of a river.
We are not concerned with a destination. We only know that we will be floating, skimming above, and moving at a speed determined by the river. We are moving.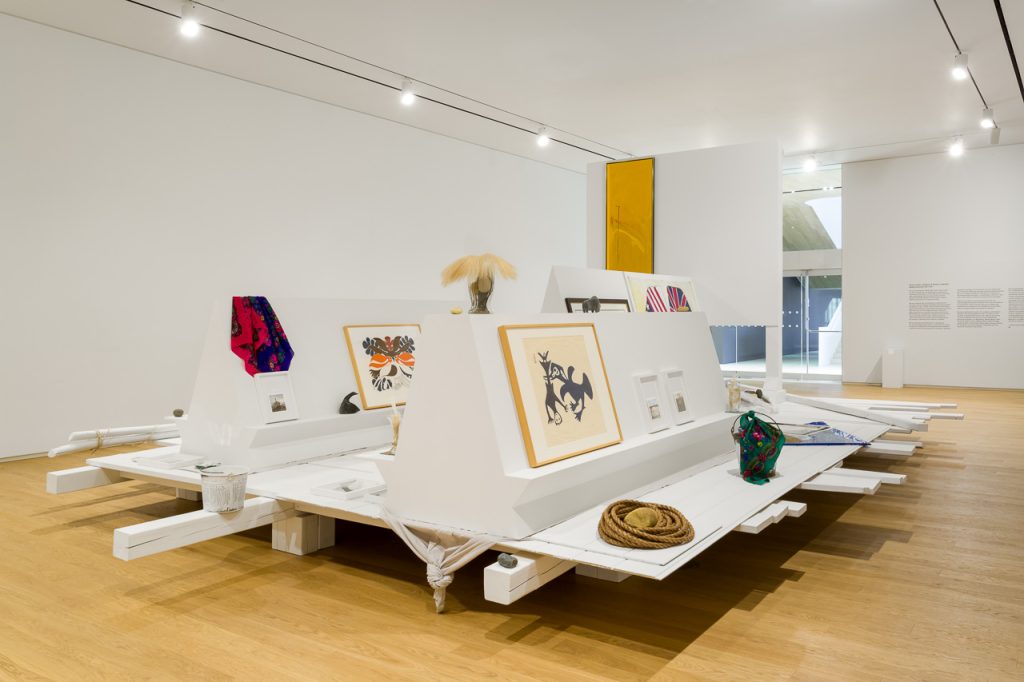 We are building. We are building an impermanent structure. We are building something provisional within the gallery, a raft, a vessel. This structure is becoming. And we are floating. It is becoming a temporary structure that will carry or hold Indigenous ideas, histories, objects and forms—artworks from the collection of the Remai Modern, configured in relation to one another and to artworks that we make. These works are collectively held by the vessel. We are floating above the museum, skimming the museum's surfaces.
We are speaking and listening to a geography: the South Saskatchewan River; a river that carves the grasses and rolling hills of the Saskatchewan prairies; a gathering place and catalyst for movement, allowing Indigenous peoples to traverse the land via waterways for a millennia. When we consider the South Saskatchewan River, we imagine Indigenous presences in the past, in the now and into the future—a continuance. How are—and how could—these continuous presences be activated?
When we consider an accumulation of time, we acknowledge the painful histories and current conditions of colonialism within Canada. We also consider and remember the significance of Indigenous knowledges that are rooted in place and shape our present.
We have gathered the work of sculptors, printmakers, painters, and photographers to be in relation to one another in Determined by the river. We are honoured to think alongside the work of Laurent Aksadjuak, Kenojuak Ashevak, Lori Blondeau, Robert James Boyer, Ruth Cuthand, Robert James Houle, William Noah, Daphne Odjig, Jessie Oonark, Pudlo Pudlat, Allen Sapp, George Tataniq, Eli Tikeayak, Irene Avaalaaqiaq Tiktaalaaq and two works by unknown Inuit artists.
We are gathering. Alongside the raft, we are gathering for conversations with Indigenous artists and thinkers to activate the exhibition with Indigenous ideas about artmaking, collections, and responsibilities to communities. These conversations will centre our collective concerns at this moment, which may be political and/or felt in our everyday lives. Participants from Saskatchewan and Alberta have generously agreed to be with us, to speak. Collectively, we hope that our analysis will catalyze the museum and what it represents to act in accordance with history, in this moment, and for the future. What does it mean for Indigenous peoples to be in relation to museums? What does it mean for museums to be in relation to Indigenous peoples? Participants in Determined by the river: a discursive event include Joi T. Arcand, Ruth Cuthand, Billy-Ray Belcourt, Lori Blondeau, Tasha Hubbard, Elwood Jimmy, and Erica Violet Lee.
Artist
Tanya Lukin Linklater originates from the Native Villages of Afognak and Port Lions in Alaska, and is based in North Bay, Ontario. Her performance collaborations, videos, and installations have been exhibited across Canada and internationally. Lukin Linklater is compelled by relationships between bodies, histories, poetry, pedagogies, Indigenous conceptual spaces and Indigenous languages, and institutions.
Duane Linklater is Omaskêko Cree, from Moose Cree First Nation in Northern Ontario, and is based in North Bay, Ontario. Linklater was the recipient of the 2013 Sobey Art Award and is currently represented by Catriona Jeffries Gallery, Vancouver. Working in performance, installation, film and other media, Linklater addresses issues of cultural loss and recovery as well as authenticity, appropriation and authorship. He often collaborates with others, reconsidering oral traditions where the transmission of knowledge, stories or histories is essential to future generations.
Tanya Lukin Linklater & Duane Linklater's previous collaborative projects include Wood Land School: Kahatènhston tsi na'tetiátere ne Iotohrkó:wa tánon Iotohrha / Drawing a Line from January to December, co-organized with cheyanne turions and Walter Scott, at the SBC Gallery of Contemporary Art in Montreal, renamed and operating as Wood Land School for the duration of 2017; A Parallel Excavation, curated by Ociciwan Contemporary Art Collective at the Art Gallery of Alberta, Edmonton (2016); and Grain(s), a performance for Images Festival, co-presented by the Museum of Contemporary Canadian Art, Toronto (2013). In 2017 they participated in the workshop Under the Mango Tree—Sites of Learning as part of documenta 14 in Athens, Greece.